Calcalist has obtained the identities of several executives at Archimedes Group, the company behind a recently uncovered Israeli fake social media network focused on Nigeria, Senegal, Togo, Angola, Niger, and Tunisia, as well as Latin America and Southeast Asia. On Thursday, Facebook announced it has deleted a network of 265 fake accounts, pages, events, and groups on Facebook and Instagram, linking it with Archimedes Group, which was subsequently blocked from the company's platforms.
Following Facebook's announcement, Archimedes Group's website, which once boasted its ability to "take every advantage available in order to change reality according to our client's wishes," was edited, now only containing a landing page with no information. Even before the changes to the company's website, it did not disclose the identities of company executives, and the company is also not listed on any major database.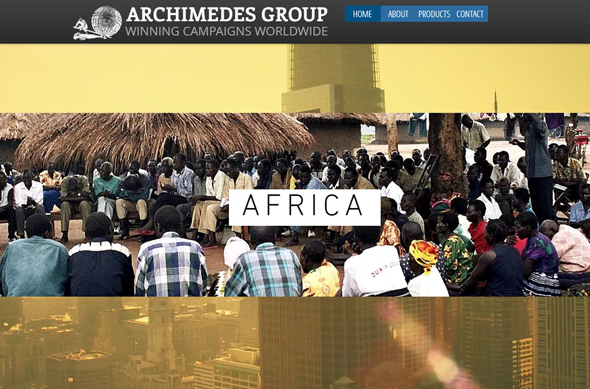 Archimedes Group's website (screenshot)
The names uncovered by Calcalist include Fabio Goldman, who previously studied marketing at Sao Paulo-based private school Escola Superior de Propaganda e Marketing (ESPM), and at Israeli college The Interdisciplinary Center Herzliya. Until several days ago, Goldman's LinkedIn account listed him as team lead manager at Archimedes Group. Three other men, Ori Ben Yossef, Ariel Tregier, and Rafi Cesana, were said to be associated with the company by one person familiar with the matter who spoke to Calcalist on condition of anonymity.
On Thursday, The Associated Press (AP) reported that Archimedes Group's CEO is Elinadav Heymann, a former political spokesman and lobbyist for Israeli politicians. AP drew Heymann's name and position from Swiss negotiations consulting firm Negotiations.CH, where he was listed as a consultant. Heymann's biography on the website, which has since been removed, also names him as the former director of Brussels-based lobbying group European Friends of Israel, a former political adviser, and an ex-intelligence agent for the Israeli Air Force. Calcalist also found an additional reference to Heymann as CEO of Archimedes Group on the program for American pro-Israel lobbying group AIPAC's 2019 annual conference held in March in Washington, D.C. At the conference, Heymann participated in a panel dedicated to Africa-Israel relations.Another man, Yuval Harel, also listed himself until recently as the CEO of Archimedes Group on his LinkedIn page, according to a Thursday report by The Wall Street Journal. Harel also mentioned he was employed at Archimedes Group on his Facebook account, which was since deleted.According to Facebook, the operators of Archimedes Group's network represented themselves as locals in the countries they operated in, in some cases pretending to represent local news organizations. They published fake news and other content pertaining to local politicians in order to advance their clients' political interests.Related stories:
According to online domain database WhoIs.com, Archimedes Group's website is registered to one Harel Eldan. Answering the phone number listed on the site was a man who identified himself as an employee of the information systems division at one of Israel's largest advertising agencies Adler Chomski Group. The man said he knew nothing about Archimedes Group. The email domain listed in the contact information for Archimedes Group's domain is registered to Adler Chomski Communication Marketing Ltd.Adler Chomski co-founder and CEO Eyal Chomski told Calcalist Sunday that he denies all connection between his firm and Archimedes Group "in the past, in the present, and in the future." According to Chomski, one of his firm's subsidiaries registered the domain, since the company also offers website construction services. This was also done for hundreds or thousands of other companies and does not imply a connection between Adler Chomski and Archimedes Group, Chomski said.You Might Also Like